Introduction of Paint Production Line
Paint production line is a type of equipment for paint manufacturing, especially for architectural paint. It mainly consists of three processes: dispersion, mixing and packing. There are two types of paint production line: manual type and automatic type. The key equipment of manual type includes hydraulic high-speed disperser, batch mixer and mobile tanks. 
Meanwhile, an automatic type is mainly composed of sealed tank, fixed disperser and mixers, feeding system, filtering and packing system. The control of its whole production process is electrical and automatic requiring very little manual labor.
Equipment for producing different paints is not same according to different formula. In addition, a manufacture usually designs the line according to the user's capacity need and actual site conditions. As one of China leading manufacturer, SeFluid has full ability to manufacture all kinds of paint production line. Our products cover a production capacity range from 500T/year to 50000T/year with various customizing options.
Features of SeFluid's Paint Production Line Series
Environment Friendly and Safe Operation
The whole system runs in a completely closed state, and the production process is streamlined. There is no dust in the production workshop, which can reduce the labor intensity of the operating staff and improve the production efficiency.
High Degree of Automation
Applicable for powder and liquid storage, automatic batching system, automatic filling system and computer PLC control system according to process requirements to realize the entire line of automatic remote control production.
Super Fineness and High Stability
Our lines adopts the international advanced dispersion and grinding machine as the grinding device. After grinding, the product has the advantages of good fineness, stable quality, small color difference and less impurity pollution.
Wide Production Capacity and Easy to Clean
The paint mixing system can produce and mix various high, medium and low viscosity paint products, and it is easy to clean. You can choose a multi-functional paint mixing tank for the production of paint with various viscosity. 
Key Equipment of Paint Production Line
Mechanical conveyor, positive and negative pressure conveying.
For pre-dispersing of raw materials, especially powder with liquid.
For super fine milling needs. And, It is a key machine for a paint production line.
For mixing of liquids, powder, pigments and additives.
Super fine, for filtering the disqualified large diameter particles and impurities.
Packing capacity range from 0.5 Kg to 200 Kgs or customized.
Paint Production Line Types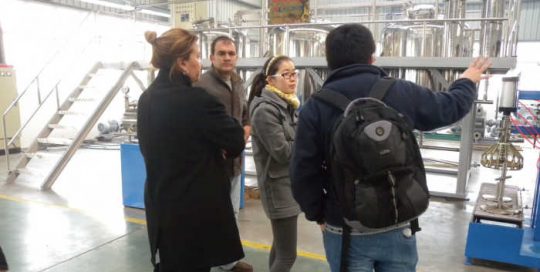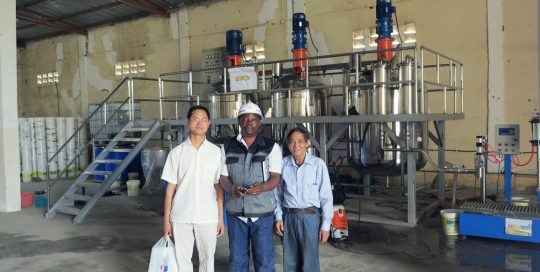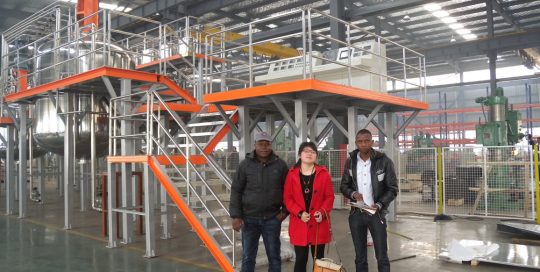 For years, with strong design and production capabilities, SeFluid can manufacture a variety of paint production lines for customers from the world and paint types as below.
Difference of Water Based and Oil Based Paint Production Line
There are many types of paints. It is distinguished by the main basic raw materials. Paints are mainly divided into water-based paints and oil-based paints. Water-based paints are mainly used for architectural surfaces, and oil-based paints are mainly used for metal surfaces, furniture surfaces, and some industrial uses.
Due to the different physical properties, there are many differences between the production of water-based paints and the production of oil-based paints, mainly in two points:
First, the main base material of water-based paint is water. Therefore, it is very easy to clean when changing and producing paints of different colors in the same reaction kettle, and it will not cause cross-coloring of paints of different colors. The main base material of most oil-based paints is benzene or xylene. These materials are oil-based and are not easy to clean. If oil-based paints of different colors are produced in the same container, it is easy to cause color smearing.
Secondly, there are generally no volatile flammable and explosive substances in the raw materials of water-based paints, so there is no need to consider explosion-proof requirements when designing a water-based paint production line. On the contrary, there are generally volatile, flammable and explosive materials in oil-based paints. When designing oil-based paint production lines, explosion-proof requirements must be considered, otherwise explosions or fires may occur in the paint production process.
For the above reasons, as a paint production equipment manufacturer, we do not recommend users to produce water-based paint and oil-based paint on the same production line. At the same time, the design of water-based paint production line and oil-based paint production line is very different.
We offer turn-key service
The user submits the info about paint types they want to produce, yearly production need and additional requirements. Then, we will evaluate the right formula based on user's demand.
Step 2: Paint Production Line Design
Our engineering team specially design the line based on user's unique information. And, we submit to the use for confirming. During the communication, we make changes the design if users ask for.
After that, SeFluid start to produce the paint production line and keep user updated with the manufacturing schedule of the line.
When production finish, SeFluid will test the whole line. then we detach the line orderly and ship it to user's site.
We offer documents showing how to install and use the line. Further, we can send engineers to user's site for installation, regulation and training.
We provide instant after sales service by ways of phone call, live chat, TV meeting or email. In addition, we will answer help demand from user side in 8 hour. All necessary help and info will be offered in short time.
N. 10, Jinhai Rd, Hefei, Cina 201400
Telefono: +86 156 6910 1862
Fax: +86 551 5843 6163
sales@sefluid.com