Introduction of High Shear Bottom Entry Mixer
High shear bottom entry mixer is a type of mixer with high shear work head and mounted at the bottom of a tank or reactor. It has multi functions include mixing, dispersing, thinning, homogenizing, and emulsifying. This type of mixers is generally used in conjunction with batch high shear mixer, inline high shear mixer, agitator and other equipment. It can more effectively solve the problems of pulverization and emulsification of bottom sediment that cannot be solved by other equipment.
SeFluid's  high shear bottom entry mixer series is ideal for lots of industries. Especially, it is good for the emulsification and homogenization of food, pharmaceutical, cosmetics, chemical, mining, paper, water treatment and fine chemical industries.
Principle of High Shear Bottom Entry Mixer
On the mixer, the shearing assembly are in precise coordination with each other.  Its rotor has extremely high linear speed and high-frequency mechanical effect of the strong kinetic energy. Therefore, the medium flowing through the rotor/stator precision gap can be proceeded by shear, centrifugal extrusion, liquid layer friction, tearing and turbulence and other comprehensive action. Consequently, a high degree of dispersion, grinding and emulsification effect will occur.
Features of SeFluid's High Shear Bottom Entry Mixer
Simple installation and disassembly, easy cleaning.
Narrow particle distribution range and good particle uniformity.
Self suction and low-head conveying functions.
No dead processing angle, medium is 100% mixed.
Low noise, stable operation and easy maintenance;
Time saving, high efficiency, high production efficiency.
Work Head of High Shear Bottom Entry Mixer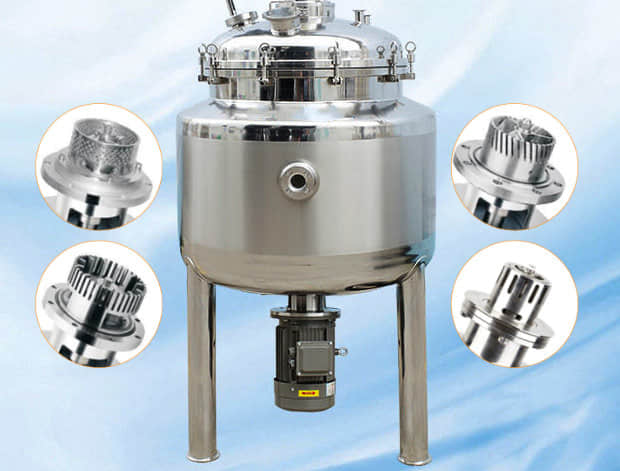 According to the different properties and types of processing materials, our high-shear bottom entry mixer can adopt different working head structures, mainly including helical tooth shape, vertical tooth shape, round hole shape, square hole shape and capsule hole shape. The user only needs to tell us the properties of the material, such as the particle size and viscosity, etc., and our engineers can select or specially design the most suitable and efficient work head form for the user to meet the different application needs of the customer.
No 10, Jinhai Rd, Hefei, China 201400
Phone: +86 156 6910 1862
Fax: +86 551 5843 6163
sales@sefluid.com