Introduction of Magnetic Agitator
Magnetic mixer is a type special mixer used for sealed high sanitary level required production condition. Because of adopting static seal and magnetic drive, it completely solves the leakage and medium pollution problems caused by traditional mixers due to the wear of dynamic type seal. With the vigorous development of the biopharmaceutical industry, mixer has become one of the indispensable equipment in integrated system.
At present, most mixers take single-end or double-end mechanical seals. This traditional sealing technology is dynamic type sealing. It needs lubrication and cooling. The shortcomings of material contact, temperature rise, wear, material shedding, easy pollution, and difficult maintenance always exist. Therefore, for the biopharmaceutical industry, especially for occasions that require high air tightness, mechanical seals have inapplicability.
SeFluid's leak free magnetic mixer series is a special leak-free type of mixer designed for such situations. It eliminates any leaks and is particularly suitable for stirring in highly sealed conditions.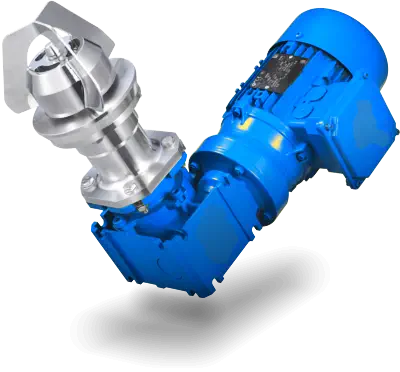 Principle of Magnetic Agitator
The magnetic mixer rotates to create a vortex to suck the dissolvable powder or liquid into it. Then all raw menials are drawn to the stirring impellers. With strong centrifugal force generated by the rotation of impellers, the different medium is impelled to the tank wall in form of radiation by the outer diameter of impellers. After hitting the tank wall, the mediums are sucked back to the suction end of impellers with impulse force and rising cycle. Under the impeller thrust action of non-stop movement, stirring and reaction, finally homogenizing, mixing, dissolution, dispersion can be achieved.
Features of Magnetic Agitator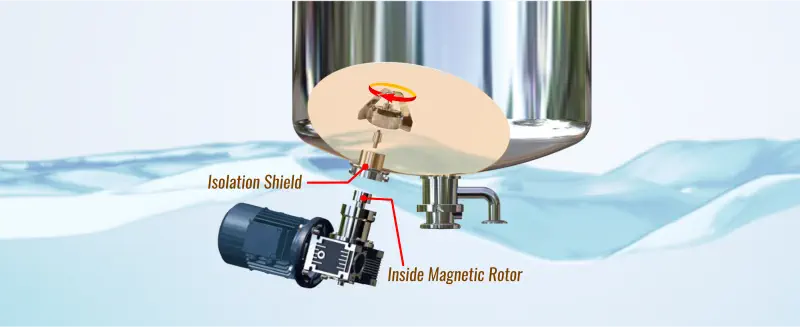 Dry run is allowable, no wear and tear.
Low maintenance cost, no need of bearing.
Simple structure, easy to dismantle and clean, no dead space.
Excellent mixing quality, customizable mixing blade for different medium.
Ideal for absolutely closed space, cleaner and more airtight.
Suitable for various tank type along with heating and stirring at the same time.
Compact structure, frictionless, zero leakage and capable for online cleaning and sterilizing.
Replace dynamic mechanical seal with welded isolation sleeve static seal, completely no leak.
No 10, Jinhai Rd, Hefei, China 201400
Phone: +86 156 6910 1862
Fax: +86 551 5843 6163
sales@sefluid.com